Kranzle Electrically-heated Mobile therm
The Kranzle therm E-M machines are distinguished by their outstanding pump technology and highly efficient heating by means of latest electrical state-of-the-art flow heaters. The hose drum version offers a 20 m high-pressure hose enabling its operating radius to extend by more than three times.
18 kW and 24 kW versions available only.
Kranzle electrically-heated therms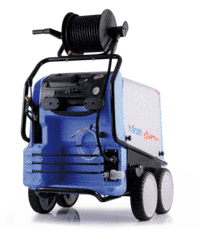 Product characteristics:
INSTANT HOT WATER
All heating is powered electrically
Accurate temperature control to +/- 1°C
Integrated Operating hours meter
Stainless steel pressure gauge
Detergent application
Stainless steel lance with flat jet nozzle
Integrated trolley takes rough ground in its stride
Hose drum
20 m high-pressure hose
Electrical flow heater
3 m power lead with plug
Stainless steel lance with flat jet nozzle
Neat arrangement system
Parking brake